Data and Analytics Supporting Education
Better-Informed Decisions for Student and Organizational Success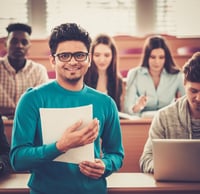 Unicon has extensive domain expertise in implementing data and analytics solutions for education and EdTech partners to promote data-informed decisions that support student learning. Unicon focuses on meeting our clients where they are in their data journey to help them modernize their solutions. Clients collaborate with Unicon to take their culture from a state of "We have data" to "We are using quality data to make informed decisions."

We understand the complexity of handling disparate and inconsistent data generated across the educational ecosystem, and the importance of empowering all users to leverage data to inform and improve teaching and learning. Unicon helps you apply data and analytics best practices that lay a foundation for a thriving, continuously improving culture of high-quality, well-managed data that enhances learner outcomes and organizational effectiveness.

Transforming data into a valuable asset is a complex process that can span multiple technologies, tools, and environments. We help customers extract, load, and transform data while providing uniform data governance that ensures rapid and actionable insights at a lower cost of ownership. Whether through custom visualizations, transitioning to the modern data stack, or integration with your business intelligence solutions, your data will be turned into meaningful analytics that answer your most critical business questions and key performance metrics. As a trusted partner, Unicon produces scalable solutions while facilitating self-service data access to analysts and decision-makers.

Unicon works with our clients to solve their data infrastructure and analytics challenges by providing knowledge that enables them to maintain and extend their systems into the future. Let's talk about how an evaluation can connect the pieces of your data and analytics strategy and pave a foundation for future growth.
Data and Analytics Services
Data Strategy Evaluation
Data Governance and Data Security
Modern Data Architecture and Stack Solutions
Enterprise Data Management
Data Warehousing / Data Lakes
Data Visualization
Data Consulting and Development