Supporting your Remote Workforce: Sharing Unicon's Approach
Published on:
May 27, 2020
Shelley McLaughlin
,
Director in Business Analysis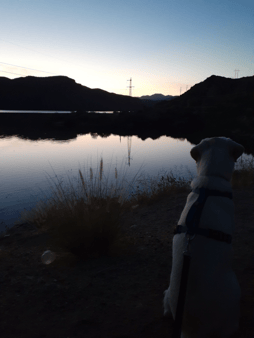 So your newly remote workforce is now just your workforce - but it's still remote.
As we pass from the initial COVID-19 scramble to get our teams up and running safely and securely from their homes, we all find ourselves moving into a new phase. For the project managers among us, we've transitioned from the Initiation Phase of this All-Remote, All-the-Time project to the Execution Phase. But the Execution Phase is going on much longer than anticipated and depending on where in the country you are located, the timing for the Closing Phase is still in flux.
How do we continue to motivate and care for our teams during these challenging times? How do we help our employees continue to deliver for our clients, while simultaneously balancing their new jobs as in-home school teachers, elder care workers, or family barbers?
Unicon's golden rule has always been "Take care of each other. Take care of our clients." It has served us well as a grounding principle, but in the last month, we have found the need to amend it to include "Take care of yourself."
Here are some of the ways we are taking care of each other and encouraging our people to take care of themselves. We are sharing these with the hope that other organizations may find some inspiration for engaging and supporting their teams until we can close this project out or at least move on to the next phase of normal.
Checking in on our employees

Our CEO, Blake, is holding weekly online office hours to simulate his standing in-office open door policy. He is also sending out a weekly Unicon COVID-19 update covering everything from new sales to client kudos on team successes to his impending weekend plumbing chores. Much to Blake's dismay, there is a movement afoot for the weekly update to become a permanent Unicon fixture.
The entire executive team is engaged in a one-on-one check-in campaign to reach out to every employee to see how they are doing and how Unicon might help.
HR distributed surveys to identify employee concerns and questions about a return to the office, as input to our return to normal operations planning effort.
Providing mental health breaks

All employees were granted a free Mental Health day to be taken at their convenience.
Probably just as important as providing the day, we've found that following up to ensure our employees are actually using it has been an important point.
From the Harold Chronicles:
By Rhea Allen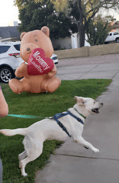 Bear! OK, Pups, it finally happened. On my weekend walk, I saw my first bear. It was huge, like 10 stories high, wide as a hippo, and was eating a heart. No joke, a heart! I charged, wiggled, jumped, and used my big dog voice. That bear was too scared to finish his meal. Boy, I was brave. I'm pretty sure the governor will be calling to award me a metal. Bravest pup of all time. Yeaaaa, that is how it went."
Encouraging engagement outside of daily project work

Virtual Veranda - This is a weekly Zoom chat over lunch on Wednesday open to the whole company for catching up and interacting on personal topics
Hosted Storytime -- We've held Zoom story hours for the children of Unicon to give our parents a little break, using some of our teenagers to engage the future generations of Uniconers.
Chat channels for non-project communications are thriving:

Our general chat channel now includes daily "Let's Get Physical" posts nudging employees to get up from their desks for a few quick exercises, and the Harold Chronicles, a daily post and scenic picture from the perspective of Harold, the dog of one Unicon team member.
We also created a "Take-Care" channel so individuals could post about non-work needs that other Uniconers might be able to assist with. For example: Info on local business with TP, cleaning supplies, and flour, or coordinating of technology resources to ensure that all the new homeschoolers had laptops.

Looking forward to the future

A common theme for many during this COVID-19 lockdown has been grief for all the special occasions and plans lost to the quarantine. And while Unicon knows we can't replace any high school graduations or anniversary trips, we wanted to ensure that our employees can look forward to those things in the future. To enable this, we've adjusted our Personal Time Off (PTO) policies to allow employees to roll over extra time off to next year so that when the world opens back up, they'll have vacation time to see it.
We hope you and your teams are finding ways to connect and support one another as well. As always please let us know if there is any way we can help.
Additional Resources:
Unicon: Working During The COVID-19 Pandemic
Unicon: Your Newly Remote Workforce
Shelley McLaughlin
Director in Business Analysis
Shelley McLaughlin is a Director in Business Analysis for Unicon, Inc., a leading provider of education technology consulting and digital services. Shelley has 25 years of consulting experience focused on custom system development and enterprise application integration across the education, telecommunications, healthcare, and energy industries. She has extensive knowledge of system requirements definition and analysis, facilitation techniques, and agile practices, as well as experience leading software development and quality assurance teams on hundreds of projects. Prior to joining Unicon in 2002, Shelley worked for Accenture and other information technology consulting firms. She holds a Project Management Professional (PMP) certification from the Project Management Institute (PMI), certified ScrumMaster®, certified Scrum Product Owner and Advanced ScrumMaster® certifications from the Scrum Alliance organization and is an AWS Certified Cloud Practitioner.