About a decade and a half ago, I was on the front lines delivering integrated education ecosystems. Mostly this was connecting publisher platforms to learning tools (today we'd call this connecting "learning companies" to "EdTechs"). In my team's onboarding slide deck, we used a graphic of a plate of spaghetti as a visual representation of what integration ecosystems look like without standards. The visual illustrated the chaos that ensues when you create custom connections between and among each LMS, Courseware platform, and EdTech product. The ecosystem eventually achieves all the connections, but becomes a tangled mess in the process. Caught up in this tangle is onerous interdependency as platforms and tools release updates. Ultimately, the learner ends up paying for this maintenance burden and unreliable user experience.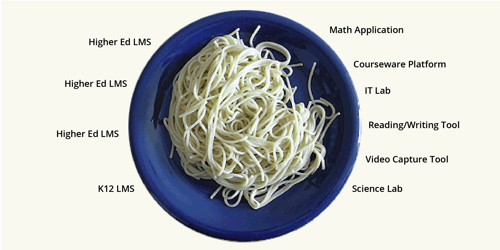 Enter standards as a connective layer that allows each platform to interoperate in a common way with other products and tools. In my experience, many of these complicated digital ecosystems required a middleware layer to proxy those connections, but with or without middleware, the standards make the connections and the connectivity so much easier. Serving as a critical foundation, standards often satisfy both the most basic, and most desired, use cases. Take for instance the powerful IMS Learning Tool Interoperability specification. LTI facilitates rich integrations between platforms and learning tools, enabling key features like single sign-on, content selection, and roster and grade exchange. At Unicon, we've literally connected hundreds of EdTechs with LMS and courseware platforms using a Standards First LTI approach. In the majority of these connections, the standard was sufficient to meet the customer's needs. It's important to recognize that there are scenarios, though, in which the desired learner experience can only be fully realized through the use of custom code. Standards first, indeed, but not always standard exclusively.
Pulling back for a moment, let's agree that standards and integration mechanisms are not new concepts. High precision interoperability has been the challenge of engineers since the Industrial Revolution. While these concepts are not new, they can be harder to grasp when we're connecting learning outcomes to data lakes rather than threading screws. I was discussing this topic with a colleague and she brought to mind a line of children's clothing that uses animal images to denote which items mix and match - if you've been a kid or had a kid in the last 50 years, chances are you're aware of the brand. The point of the animal image is to enable a child to assemble their own outfits. Animal coding, like standards, allows for easier interoperability, helps to swiftly identify how to fit pieces together, and creates a coordinated outfit. And when that outfit isn't quite complete, you can accessorize in order to create a unique and differentiated ensemble.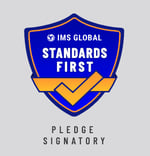 It is in this spirit that I signed the IMS Global's® Standards First pledge on behalf of Unicon. We are committed to using standards first and foremost in digital education ecosystem integration to save our clients time, cost, and maintenance effort, and improve the integrated experience for the learner. We are also realistic about the value of last mile engineering to realize the full digital experience, where necessary. Thanks to IMS for helping education technology line up lions to lions and zebras to zebras so we can spend time accessorizing.

Kate Valenti
Chief Operating Officer
Kate co-leads the senior executive team and all aspects of corporate operations, alongside founder and co-CEO John Blakley. Kate is responsible for the profitable execution of market strategies as well as internal operational efficiency towards Unicon's goal to deliver outstanding service to clients and significant impact to learners. Throughout her career at Unicon, Kate has previously held key leadership roles including Chief Operating Officer and Senior Director of Integrations and Analytics. Previously, Kate worked at Cap Gemini Ernst & Young as a management consultant with a focus on enterprise application integration.

Kate is passionate about the impact that well-designed and well-integrated technology can have on the learning experience. During her career in education, Kate has designed and developed integration strategies, programs, and technical services teams, and has delivered dozens of integrated solutions to the market. Kate has both participated in and facilitated industry panel conversations and holds the EDUCAUSE Review Author microcredential.