Reflections from ASU+GSV Summit 2021
Published on:
September 24, 2021
Even though it's been several weeks since I returned from ASU-GSV, I'm still watching back the recordings from the session. It's wonderful that the amazing panels and content presented have been made available publicly. As someone who considers myself an extrovert, the prospect of attending my first in-person conference was exhilarating. Kudos to the whole ASU-GSV team for reacting quickly to the changing conditions surrounding the delta variant: they were able to shift conference protocol to allow attendance in a safe manner. Of course, it was also helpful that San Diego's weather made outdoor gatherings very pleasant indeed.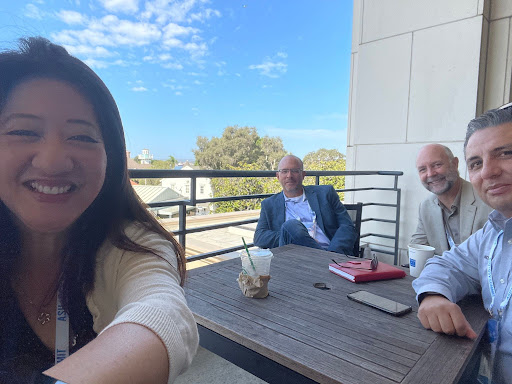 I made it a goal to attend or watch every session that had the word AI in it, and I only have a few more sessions to go. Here are some of the most interesting sessions I came across:

Ethical Implications of AI
This was a super lively and interesting session with great perspectives from folks involved in building, using, or teaching others about AI in education. Moderated by Jason Palmer of New Market Ventures, he encouraged the group to frame out how we should think collectively about the ethical implications of AI. One of the most memorable quotes from the session for me was when Drew Magliozzi, CEO of MainStay (formerly AdmitHub) said "you are not buying AI, you are hiring it" This makes sense to me because as organizations grapple with how to effectively leverage AI from all sources, it does seem more like a hiring decision, as opposed to purchasing. Also from Drew: "Bias is not inherently bad, but unexamined bias is." He was encouraging more practical ways for AI to be examined for bias, arguing that when bias is seen and accounted for, it can help improve overall usage.
Educator Insights About Human-Centered AI: 10 Tips from Learning Science
Great panel moderated by Jim Larimore (Riiid Labs), with learning and data science researchers sharing evidence-based insights that can inform product design, trying to solve the "last mile problem" to improve the experience of teachers and learners.
Other sessions from GSV worth watching

Democratization of Education: ASU and CMU collaboration
In this session, moderator Bridget Burns heard from Ariel Anbar of Arizona State University, who described how he faced an extinction problem with his group's extensive library of adaptive content. When Michael Feldstien (eLiterate and Argos Education) learned of Dr. Anbar's challenge, it was a "peanut butter meets chocolate moment", facilitating collaboration with Norm Biers of Carnegie Mellon University just as he was preparing to develop a next generation platform of the open source Open Learning Initiative (OLI).

Product Certifications: Identifying EdTech Designed for Powerful Learning
This was a great discussion about how product certifications can be used to create a transparent edtech marketplace. I especially loved learning about a new initiative started by Nidhi Hebbar and Madison Jacobs. While at the Aspen Institute, Nidhi and Madison started the Edtech Equity Project to advocate for equitable practices when building out courses. Together with Digital Promise, they have worked on a rubric for evaluating course equity. It was awesome to see how much emphasis and awareness is being created on Diversity, Equity, and Inclusion in education, as we look for ways to make all learners successful.

Announcing a Global EdTech AI Benchmark Initiative
Great to hear about a new initiative called EdSafeAi, formed through a number of organizations as a cross-sector alliance. The goal of this initiative is to grow a community and work together to create voluntary benchmarks and standards to ensure public trust in the AI Ed industry.

Stage X The Future of Higher Education
Wonderfully engaging and enlightening panel representing a diverse group of college presidents, reflecting on the past year of disruption and sharing their insights for what they have learned and what they see as the future of higher education.

Overall, from the sessions, it is clear that equity and access are more in the forefront than ever, heightened by the pandemic. Micro-credentialing seems to be more accepted - and even celebrated. There are also many who are asking questions about what should happen with Tech and Online Learning post-pandemic. Finally, AI is referenced everywhere, but still not clear whether it is moved beyond a buzzword into practice.

For me, the most valuable part of ASU-GSV was connecting and reconnecting in person with so many colleagues, partners and clients in our close knit edtech community. Hats off to the organizers for making the conference happen and fostering a spirit of collaboration and curiosity!

Linda Feng
Linda Feng is a Principal Software Architect at Unicon, Inc., a leading provider of education technology consulting and digital services. Linda has deep experience in student information systems (SIS) integration, open standards, and big data/ learning analytics, most recently as Senior Product Manager for Canvas SIS Integrations and Canvas Data at Instructure. Prior to Instructure, Linda held the position of software architect for Oracle's Student Products Division. In the last several years, she served as co-chair of the IMS Global Learning Initiative Learning Information Services & Privacy Working Groups, helping to bring a new Enterprise interoperability standard to market.