Making Large Classes Feel Small Again: Faculty Driven Learning Analytics
Published on:
May 20, 2022
Linda Feng
,
Principal Software Architect
For the past several years, I have participated in a community group within EDUCAUSE focused on the area of Student Success Analytics. It was started several years ago when a group of analytics practitioners felt the need to share practices and look for ways to collaborate with the research community. I was part of the original steering committee which formed the group, and this year I'm serving as one of the co-chairs. Our group organizes 4 events a year, alternating between webinars with invited speakers and "virtual brunches," which are more casual get-togethers centered on specific discussion topics.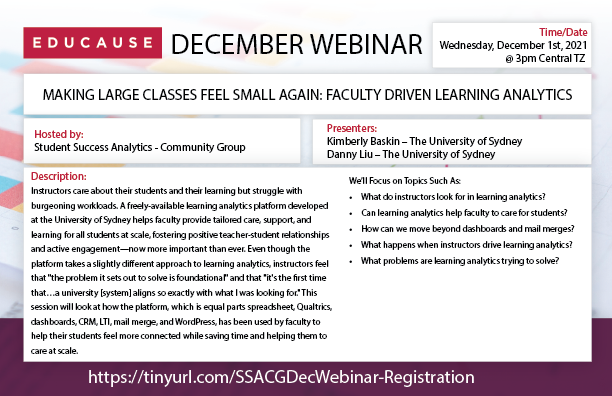 Our group held a webinar several months ago on "Making Large Classes Feel Small Again: Faculty-Driven Learning Analytics," with invited speakers Danny Liu and Kimberly Baskin from the University of Sydney. In response to the needs of their faculty who oversee large classes, the University developed a freely-available analytics tool called the Student Relationship Engagement System (SRES) (https://sres.io/video/). This analytics tool, equal parts spreadsheet, Qualtrics, dashboards, CRM, LTI, mail merge, and WordPress, has been used by faculty to help their students feel more connected, while saving time and helping them to care at-scale. Utilizing LTI, the tool is integrated with learning management systems such as Canvas and Moodle.

Kimberly and Danny began by sharing the challenges faced by instructors who teach large classes. These instructors care about their students, but they struggle with heavy workloads and are interested in easier ways to foster positive connections which help students feel engaged. From there, they presented "The Five Senses of Student Success": connectedness, capability, purpose, resourcefulness, and culture. With the two groups in mind, they turned their attention to questions regarding how to best use data analytics to enhance student/teacher relationships and to improve engagement:
What do instructors look for in learning analytics?
Can learning analytics help faculty care for students?
How can we move beyond dashboards and mail merges?
What happens when instructors drive learning analytics?
What problems are learning analytics trying to solve?

The outcome of the answers resulted in the SRES system which:
Allows instructors to pose questions to students, collecting their preferences and stated goals
Allows instructors to generate regular pulse checks and personalized feedback with tailored advice based on the information gathered from each student
Allows instructors to get analytics about the message engagement and to understand who has interacted with or opened their messages

One of the best parts about the webinar was that Danny and Kimberly enabled all those who joined the session to try out the environment. We were given logins and were able to experience firsthand how easy it was to create goal-seeking questions and to view and merge responses into meaningful messages between instructors and students.

I loved the concept of collecting input from students and then displaying it in a dashboard view for teachers as they send personalized messages. To me, this is a great example of the use of data to enhance the connections between educators and students in large classes.

Do you know of other solutions to address this same need to enhance student/educator relationships and increase student engagement? What are your thoughts about this use of learning analytics? Here at Unicon, our goal is to help institutions and education organizations optimize their data solutions to improve student success outcomes. Please contact us if you would like to discuss further, or if we can assist you in meeting your student success goals.

If you would like to join the community for an upcoming webinar or virtual brunch, here are additional ways you can participate!

Linda Feng
Principal Software Architect
Linda Feng is a Principal Software Architect at Unicon, Inc., a leading provider of education technology consulting and digital services. Linda has deep experience in student information systems (SIS) integration, open standards, and big data/ learning analytics, most recently as Senior Product Manager for Canvas SIS Integrations and Canvas Data at Instructure. Prior to Instructure, Linda held the position of software architect for Oracle's Student Products Division. In the last several years, she served as co-chair of the IMS Global Learning Initiative Learning Information Services & Privacy Working Groups, helping to bring a new Enterprise interoperability standard to market.