The Three Key Elements of Learning Experience Design
Published on:
July 19, 2022
Dr. Linda Crismon
,
Senior Director of Learning Experience Design
Gary Thompson
,
Learning Design Architect
Learning eXperience Design (LXD) is a new approach to instructional design that incorporates human-centered design principles to put the learner at the center of the learning experience.
The Definition of LXD
As a relatively new practice, LXD is still being shaped as it grows and matures. LXD incorporates aspects of multiple related disciplines including Instructional Design, Learning Design, Curriculum Development, Content Development, and User Experience. This melting pot of ideas, principles, and practices has resulted in a wonderful renaissance of learning design. However, there is not yet a strong consensus of what LXD really means.
Here at Unicon, we have conducted significant research to understand LXD. We found that LXD means different things to different people. Some claim to have authored the LXD name and what it is, while others argue that LXD is larger than that and it should be defined by the community of practice. Regardless, there does appear to be a few consistent core components of LXD:
LXD shifts the focus from thinking about instruction first, to thinking about the learner first.
LXD expands the traditional in-person classroom context, emphasizing blended and online learning modalities, and embracing forward-looking concepts like asynchronous learning, HyFlex, microlearning, Competency-Based Education, immersive simulations, and VR/AR.
LXD folds in core principles and practices of Human-Centered Design and Design Thinking to really understand the learner as a whole person, and uses that understanding for holistic design of learning experiences.
LXD combines academic disciplines (e.g., cognitive psychology and instructional design), with educational methodologies and processes (e.g., social-emotional learning, experiential learning, and backward design) and disciplines of design (e.g., interaction design, user experience design, graphic design, and game design).
We also discovered that there is a core aspect of LXD that is missing or under-emphasized:
LXD must measure the effectiveness of, and promote the continued improvement of the learning experience.
Moreover, most definitions of LXD focus on the learning design aspects of the learning experience. Learning design is integral to the creation of good learning experiences, but from our perspective of having served hundreds of clients on LXD projects, we believe that there are two other key elements to LXD: Learning Technology and Learning Data. Hence, the three key elements of LXD are:
Learning Design
Learning Technology
Learning Data
As you can see from the graphic below, to enhance the learning experience, we need to take into account the relationship between Learning Design, Learning Technology, and Learning Data. We believe that it's a cyclical process whereby Design, Technology, and Data work harmoniously together, to deliver a personalized and holistic "Learning Experience."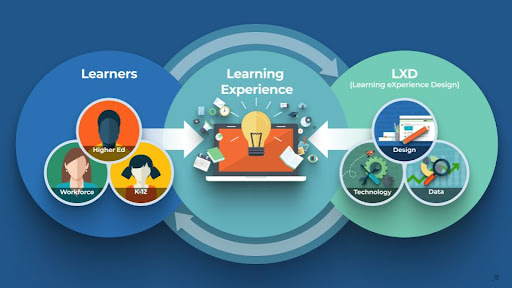 Let's take a brief look at each of these elements and how they apply to LXD.
Learning Design
The first key element in LXD is Learning Design. Learning Design is a framework to create high-quality learning experiences. This framework encompasses deliberate choices about who, what, when, where, and how to teach. Some components of the learning design framework are:
Learner Research
Content
Structure
Timing
Pedagogical (teaching) strategies
Sequence of learning activities
Type and frequency of assessment
Nature of technology used
A core principle of learning design is Design Thinking, "a human-centered approach to innovation that draws from the designer's toolkit to integrate the needs of people, the possibilities of technology, and the requirements for business success." Tim Brown, Executive Chair of Ideo Design Thinking

Some of you may have heard the term instructional design before. It is similar to learning design, but the key difference in learning design is a shift in focus from the instructor to the learner. Our goal in learning design is to think about learners first, which includes asking questions such as who they are, what they know, how they think, and how to reach them effectively so they get the most out of their educational experience.

A good example of how important learning design is to a learning experience is in the Covid-19 era whereby institutions were required to transition to online learning without having the time needed to implement effective learning designs. Online learning requires a different learning design. We have to think about:
Different learners
Different medium
Different tools
Different pacing
Different interaction
Different assessments
Different management
Everyone (universities, schools, educators, students, learning and development, etc.) wants online courses that are well designed and well delivered, but many lack key elements such as:
Learning science expertise
Technology expertise
Experience design expertise
Data Analytics
Even the workforce needed to transition their onboarding and learning and development content to an online platform, and many experienced similar challenges because they did not have a learning experience champion who took into consideration the learning experience as a whole.
The solution is to have a cross-functional team of experts to fill those key lacking elements in order to design and deliver excellent learning experiences.
For example, some design solutions may include:
Interviews, Personas, and Journey Maps

Learning Outcomes / Competencies
Pedagogical Outline
Storyboards
Media (images, visuals, video)
Interactives / Stimulations
Assessments
Learning Components and Templates
Once the learning design team has completed their part, they pass the baton to the learning technology team, who will then implement the designs into effective, deliverable content.
Learning Technology
The second key element in LXD is Learning Technology. Learning Technology focuses on aligning tools, technologies, and workflows to deliver a measurably effective learning experience. Learning Technology focuses on the following areas:
Design Integration
Content Management
Content Delivery
Design Integration typically follows after a Learning Design phase, where Learning Engineers receive a design for implementation. This could include the implementation of a new design within a content management system to help improve the authoring experience or building the functional and visual components where a learner directly interacts with the content.
Content Management deals directly with how content is initially created, managed, and eventually published for learner consumption. Developing a strategy for how content is authored, with a focus on a streamlined experience for those authoring the content, inevitably leads to the more rapid production of quality content for the learner.
Content Delivery makes the created content available to the learner, in harmony with the systems already in play. In this stage, we consider how and where the content will be published, and whether the learner will access it directly on the platform in which the content is hosted, or through a Learning Management System (LMS). Most learning institutions tend to utilize options within the LMS when available.
Content can be created and managed within the LMS, though in practice, content authors often find that external platforms offer richer features for interactive content than native LMS tools. Establishing and implementing a content management strategy ahead of time will help to weigh the options, provide more engaging content, and achieve better learning outcomes.
To go back to the example of online learning, it requires you to think about:
Proper, effective display of content within an LMS
Creating a seamless experience between an LMS and an external content delivery platform like a CMS
Effectively capturing learner behavior data, and displaying that data in meaningful ways to authors and analysts
To do so, you need a cross-functional team of experts who understand how learning design, learning technology, and learning data work together to create and deliver excellent learning experiences.
For example, some technology solutions may include:
LMS, CMS, Authoring Tool Consultation
Technical Review and Future-state Roadmap
Design and Development Implementation Services
ETL Strategy and Execution (Content Migration)
Interaction Data Capture Strategy and Implementation
Learning Data
Thus far, we have discussed Learning Design and Learning Technology. The third key element in LXD is Learning Data. You may be wondering what kinds of data qualify as learning data. Learning data can be defined as data produced by all activities related to a learning environment. This umbrella definition can include data produced by the learning system, data from the creation of courses, classes, assessments, etc., and data generated by the delivery of and consumption of information by students/learners.
To improve the learning experience, we need to use data to measure and predict results and outcomes, to provide the information necessary to make decisions, and modify actions for future success. How do we do this? Data is pulled from assessments, learner behavior, and educator performance and placed in a data lake. Once it is analyzed and merged, we use the learning data to measure and predict what will enhance the learner experience.
The first data source is learner behavior. It is important to understand the behavior of learners as they progress through online material and courses because it allows us to identify the exact needs of students and what modifications need to happen to enhance the learning experience.
We can also source data from educator performance. Having successful educators is essential to the learning experience. By analyzing the educator's performance and how it correlates with data from other sources, we can understand what needs to be done to allow educators to perform better. We can also look at what correlates with high or low-performing educators, analyze the correlation, and take action to improve educator performance, enhancing the learner experience.
Performance data is enhanced even further by understanding learner behaviors. Behavior data captures how people interact with products and services. Behavior data studies how an application is being used by observing which features of the application are being used and how students navigate the content in the course. Behavior data can also analyze how a learner is experiencing the system. Using behavior data to understand learner behavior, we can make predictions, decisions, and modifications to course content that will also ensure future learner experience success.
Conclusion
The days are passing, and may already be in the rear-view-mirror, where content in text documents, slide decks, or single-channel lectures qualify as a learning experience. Modern learners (and instructors, administrators, advisors, learning and development managers, professional development coaches, etc.) demand that learning experiences mirror the beautiful design, technical innovation, and personalization they experience in other facets of their lives.
By taking into consideration Learning Design, Learning Technology, and Learning Data, you can create a personalized, immersive, and compelling learning experience that will help both your organization and learners achieve their goals. We, at Unicon, believe these are the three key elements of Learning Experience Design.
We'd enjoy having a discussion with you about your perspective on LXD. If you want to see how we can enhance your own learning experience, contact us.

A big thanks to Phil Ball - User Experience Architect, Rob Nield - Data Architect, and Katie Thompson, Intern for their valuable insights and contributions to this article.

Dr. Linda Crismon
Senior Director of Learning Experience Design
Dr. Crismon has over 15 years of international experience in learning and development and in higher education. At Unicon, she manages the Learning Experience Design practice, where her responsibilities encompass developing and implementing practice operations and management strategies, building relationships with clients, ensuring client satisfaction, and identifying and delivering on the needs of the market.

Dr. Crismon is an active academic and researcher. She has been a Faculty Associate at Arizona State University since 2013, and has developed and taught a wide range of courses across various learning modalities. Her research interests include cross-cultural learning and teaching in higher education, social-emotional aspects of education, and strategies for promoting effective student engagement in educational processes.

Gary Thompson
Learning Design Architect
Gary Thompson is a User Experience (UX) and Learning Design (LX) Architect for Unicon, a technology consulting firm focused solely on the education ecosystem. Gary has 25 years of experience in design and front-end development with a focus on interaction design, information architecture, usability, and accessibility. He works with Unicon's clients to understand both user goals and business needs to blend them into effective, efficient, and enjoyable experiences. He has been involved in designing solutions for student portals, learning management systems, course content and delivery, assessment and placement, learning analytics, student success, learning communities, and more. Prior to joining Unicon in 1999, Gary worked for Sandbox, Inc. creating the first wave of online games for the World Wide Web.