eBook: Building Your Hybrid Cloud Strategy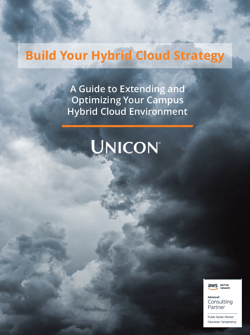 Organizations are leveraging a hybrid cloud model, defined as integrating on-premises IT in your datacenter with cloud resources, to share data and applications across environments and to reduce or eliminate challenges difficult to address with traditional IT.
This eBook highlights the benefits of a hybrid cloud deployment, and will show you how you can optimize your organization's current or planned hybrid architectures. It details the most commonly used AWS services in a hybrid environment, some popular use cases, and customer best practices.
Fill out the form below and you be will able to download your copy of Building Your Hybrid Cloud Strategy.
A Guide for Extending your Campus Cloud Environment