Christian Murphy, Software Developer at Unicon, Recognized as 2020 Apereo Fellow
Fellows enrich the Apereo community by providing technical expertise, teaching, research, community organization, support, and leadership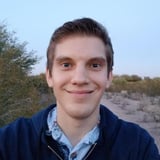 Gilbert, AZ – June 22, 2020— Unicon, Inc., a leading technology consulting firm focused solely on the education ecosystem, announced today that Christian Murphy, Software Developer at Unicon, has been selected as a 2020 Apereo Fellow . Apereo Fellows are recognized for their outstanding contributions to the Apereo community of open source projects. Christian is an open-source advocate and has been an Apereo member since 2016. He is a uPortal, openEQUELLA, and ELMSLN contributor, where he designs new student and instructor experiences, contributes code, answers questions, audits accessibility, and audits security. He is a current member of the uPortal steering community, a frequent contributor to the uPortal mailing list, and an active member of the openEQUELLA community calls.
"I am honored by the community's show of appreciation for my efforts in the Apereo Foundation through the Apereo Fellowship," said Christian Murphy, Software Developer, Unicon. "I look forward to continued collaboration with the Apereo community for the foreseeable future."
The purpose of the Apereo Foundation Fellows Program is to acknowledge, celebrate, and reward the contributions of important Apereo volunteer contributors. The Apereo Fellows program seeks to foster community leadership and contribution through recognizing and supporting active contributors. Read about all the 2020 Apereo Fellows .
About Apereo
The Apereo Foundation is a non-profit organization supported by voluntary partner contributions. Apereo provides a rational and improved organizational umbrella for a range of projects and software communities serving higher education. Apereo is dedicated to coordinating activities that foster software development and community health to ensure the long-term viability of the projects they support. The core mission of the Foundation is to "assist and facilitate educational organizations that collaborate to foster, develop, and sustain open technologies and innovation to support learning, teaching, and research." Learn more at www.apereo.org.