Reflections on CanvasCon 2020
Published on:
October 22, 2020
CanvasCon 2020 Online last week was one of the first virtual conferences I had done since the COVID-19 pandemic began.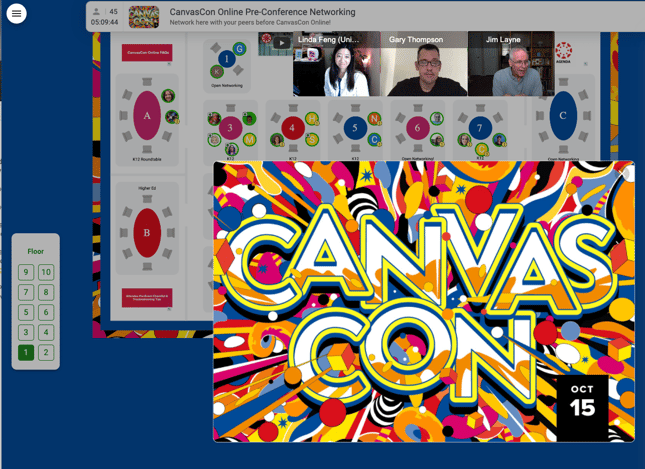 Attending the virtual conference made me think back to my first ever Canvas conference—back when I was working for Instructure and the conference was held in Park City, Utah. As someone who had been to many software conferences before, it didn't take long before I realized this was not a "typical" conference. The vibe was unmistakably "Summer-Camp-Meets-Music-Festival." As employees, it felt like we were one big family hosting a big reunion up in the mountains. The mountain air was crisp and the sky brilliantly blue as Customer Success Managers processed your registration and drove you around in golf carts between buildings. In recent years, the conference has grown larger and just last year Instructure went with a larger venue in order to accommodate the number of attendees. And while I was secretly thankful to be at sea level last year, I did find myself missing the mountain air.
And then 2020 happened. One of the biggest changes for me personally in the last 6 months has been the lack of travel. My pre-pandemic lifestyle had me in different cities about once or twice a month for conferences and meetings with clients. I used to say that I was a happy traveler once or twice a month, but back to back trips 3 weeks in a row would make me cranky.
After 6 months of lockdown and travel restrictions, CanvasCon Online was the first time ever that I used a virtual meeting platform to interact with complete strangers. I found myself making small talk with people the same way you might do when stuck in an elevator, or in a food or drink line. "Hi - I'm Linda - where are you from?" "How are you enjoying the conference so far?" Surprisingly, just chatting casually with so many new people made me feel energized and happy!
CanvasCon Online was held at 3 different times in the span of a day and a half. For me (in California), it started Wednesday evening for folks in Australia, New Zealand and the Asia Pacific Region. The hardest time slot for me was waking up at 4am the next morning for the Europe session. The third time slot was for North America, held mid-day my time, ending around 3pm.
As a partner and conference sponsor, Unicon had a booth/pavilion space in the virtual partner hall. For me, the highlight was spending time in our booth with Oxana Jurosevic, Instructure product manager, previewing upcoming changes to Canvas Data and answering questions about the migration.
Unicon also sponsored a cool social wall for the conference: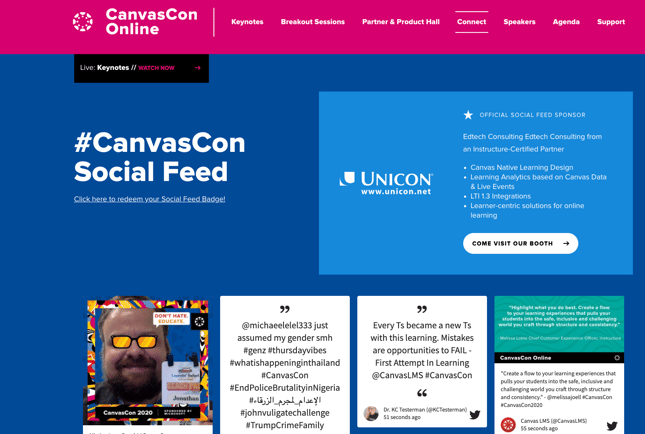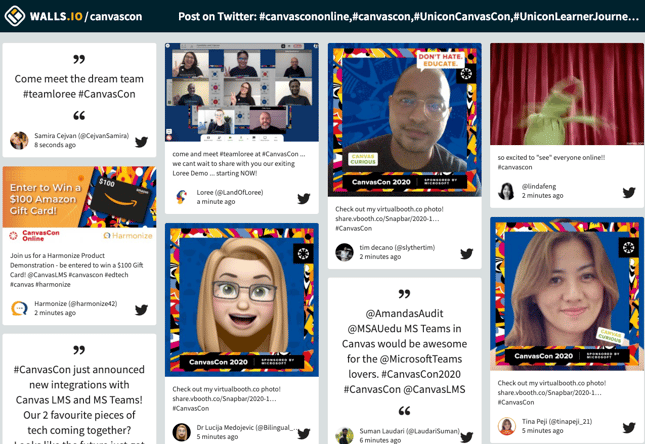 Gary Thompson, Unicon lead UX architect, did a great presentation on Canvas Templates
Other highlights from the conference for me:
LeVar Burton keynote
Product and Community Booths

I enjoyed popping in on the community and product booths to hear from customers and catch up with friends

Product announcement about Microsoft® Teams
Thanks CanvasCon, for providing great content and enabling me to meet so many different people from the comfort of my home! It was such a change from my "stuck at home" routine, and surprisingly, enough to give me that "conference high"!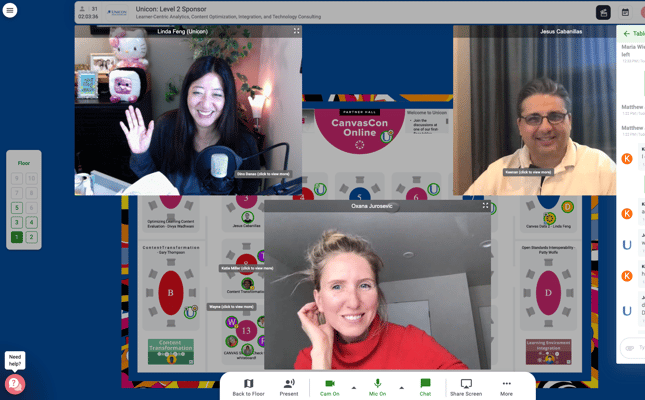 Linda Feng
Software Architect
Linda Feng is a Principal Software Architect at Unicon, Inc., a leading provider of education technology consulting and digital services. Linda has deep experience in student information systems (SIS) integration, open standards, and big data/ learning analytics, most recently as Senior Product Manager for Canvas SIS Integrations and Canvas Data at Instructure. Prior to Instructure, Linda held the position of software architect for Oracle's Student Products Division. In the last several years, she served as co-chair of the IMS Global Learning Initiative Learning Information Services & Privacy Working Groups, helping to bring a new Enterprise interoperability standard to market.