Published on:
June 16, 2020
Now that March has slid into June, I really miss being able to interact with the IMS community in person. Last month, many of us would have seen each other in Denver for the annual Learning Impact conference. That same week, a few of us organized an impromptu virtual evening happy hour: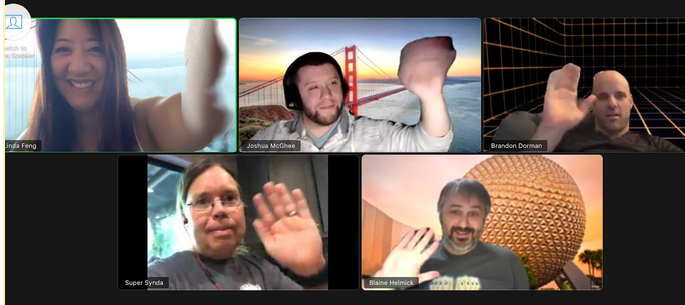 It was terrific to "see" everyone, even if it was just for a short while! I hope we can do something similar again :-)
Until then, here is a round of updates on LTI and other important news for the IMS community:
Updates on Browser 3rd Party Cookie Handling
The Google Chrome SameSite cookie changes that were rolled back in April will be resumed in July. For more information, read Chromium's blog Resuming SameSite Cookie Changes in July.
New Resources Available for LTI Developers
IMS has recently made the recordings from their monthly LTI Roundtable meetings publicly available. These sessions are designed to give IMS members an opportunity to ask questions and share the latest information on the LTI specification work. Unicon presented at the most recent LTI Roundable on May 26, 2020. We presented an LTI tool that we developed in Java that can be useful as a training tool to learn about the various LTI 1.3 and Advantage services. Our segment is from minute 9:16 to minute 36:00. The tool is open source, so we encourage you to use it and also to help us improve or extend it as a community.
More Info on the New Vanguard Certification Program
IMS has posted updates on the Vanguard Certification Program.
Here is how it works:
IMS Contributing Members from K-12 districts/schools, states, and higher education institutions can identify up to three suppliers that need assistance getting certified within the next 90 days. Suppliers who are not currently an IMS member may be eligible for a free six-month Affiliate Membership to help get their products certified. Existing IMS members who need additional support with certification can also submit a request using the form below.
The IMS Vanguard Certification Program will provide eligible vendors with:
a complimentary 6-month Affiliate Membership.
the ability to get their product IMS certified.
complimentary support via the IMS support portal.
Note that the only way to really participate in the standards community is to maintain standards on an ongoing basis, which will require you to get certified each year. The complimentary 6-month membership helps suppliers get over the hurdle of initial adoption and certification, but in order to maintain ongoing certification, they will need to renew their membership annually.
Tech Congress in August Will Be Remote
IMS recently announced that this summer's Technical Congress will be held virtually on August 12 from 12:00 - 3:00 p.m. EDT. There is a link here to register in advance. In addition, the IMS technical team is planning a series of on-demand webinars to help keep us up-to-date on IMS standards and technical activities. Topics and details will be posted here.
Even though I know we can connect virtually at the congress, I will really miss seeing everyone in person. Anyone up for another virtual hang-out in August? Maybe this time we will plan to stay on a little longer and even try to do virtual karaoke ;-)
As Unicon hears more news related to LTI, we will be sure to let you know. If you have any questions, please contact us--we're here to help!

Linda Feng
Software Architect
Linda Feng is a Principal Software Architect at Unicon, Inc., a leading provider of education technology consulting and digital services. Linda has deep experience in student information systems (SIS) integration, open standards, and big data/ learning analytics, most recently as Senior Product Manager for Canvas SIS Integrations and Canvas Data at Instructure. Prior to Instructure, Linda held the position of software architect for Oracle's Student Products Division. In the last several years, she served as co-chair of the IMS Global Learning Initiative Learning Information Services & Privacy Working Groups, helping to bring a new Enterprise interoperability standard to market.