2023 Internet2 Community Exchange
When: May 8-11, 2023
Where: Atlanta, GA
REGISTER FOR TECHEX 2022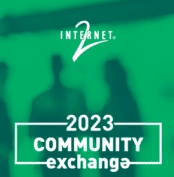 The 2023 Community Exchange is a conference experience designed to ensure rich conversations, discussions, and networking opportunities akin to those offered at previous Global Summit conferences. This year's event will allow the community to come together to present, share, and influence the services and infrastructure that underpin work in R&E, with an intentional focus on broadening the participation of and engagement with emerging leaders and rising professionals across a more diverse set of institutions and organizations.

Join us for the following sessions:

IAM Modernization, Hear about Success!
When: Wednesday, May 10 | 10:30a.m. - 11:45a.m
Presenter: Charise Arrowood - Executive Director, Business Development, Unicon, Inc.
Our goal is to share the real outcomes of schools that had a desire to "modernize IAM," and hear their story; what worked, what did not, and how they accomplished their goals! You will hear everything from initial requirements to political nuances, strategy, planning, and tactical successes
---